Private Label Manufacturing Asphalt Pothole Patch ​
PLM stands for Private Label Manufacturing. Our asphalt pothole patch is formulated and blended from fine quality materials to meet or exceed government and industry standards. We have a proven product in the retail market since 1994.
Our private label customers have product in hardware stores, big box stores, industrial catalogs and more.
We have grown from a 10,000 square foot packaging facility into a 40,000 square foot building and have added multiple new packaging machines, which makes us now able to grow and become your prime source of High-Performance Pothole Patch or other bagging and packaging needs.
In addition to a premium quality product, you will receive dependable service, prompt deliveries (our on-time rate is 99.7%), and any additional customer service help that you may require. PLM Corporation has been in existence for since 1994. The management and staff have over 50 years of experience in the manufacturing, formulation, and retail sales of asphalt patch. You can be assured that your needs will be clearly understood, and we will work hard to help you achieve sales and profits.
We will provide our product in bags, pail or drums with your artwork - artwork will be provided if needed.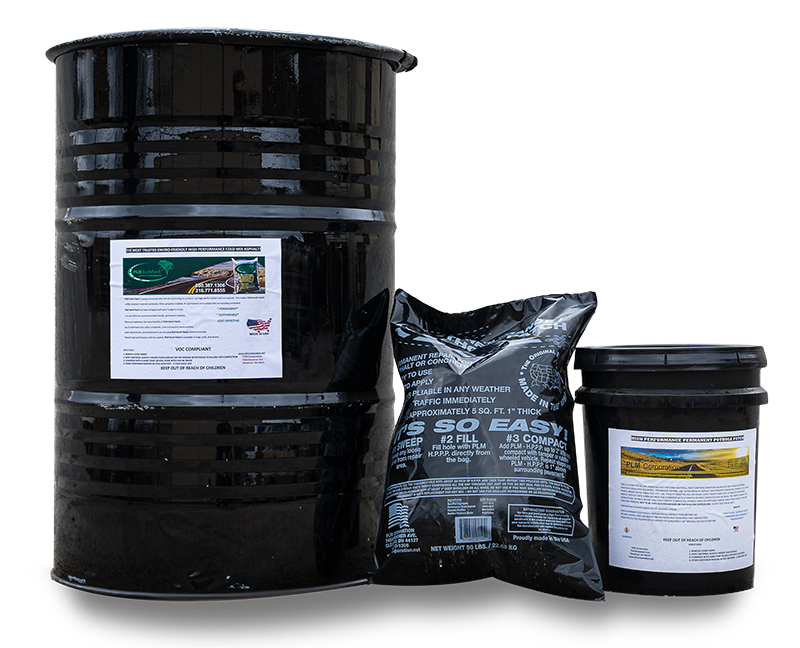 Sizes Available:
50 lb Bag - 5 sq. ft. coverage @ 1"
5 Gallon Pail - 5 sq. ft. coverage @ 1"
55 Gallon Drum - 75 sq. ft. coverage @ 1"
We will also offer our bag manufacturer to you therefore you are able to access the lowest prices for the best materials resulting in maximum profits and more importantly, customer satisfaction.
Contact us today for more information about making PLM your High-Performance Pothole patch manufacturer.